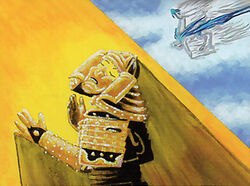 The Golden Sun Plain (HHH) was once declared sacrosanct by an Emperor. Since then the rich fertile stretch of land stood empty because no farming or cultivation was allowed. The only occupants were a few Sparrow bushi who were tasked with ensuring the land remained undisturbed. [1] The Sparrow performed their duty on The Watch, a watchtower. [2]
Appearance
Edit
The Golden Sun Plain was a lush expanse of fertile land, clustered with rich forest and huge groves of naturally growing cherry trees. [3] When the sun set, it appeared to light the entire province with a heavenly glow. [4]
Sacred Task
Edit
In the year 410 the Imperial Chancellor assigned the Sparrow Clan to guard and protect the sacred plains, a subtle insult, as they were already protected by Imperial Decree forbidding anyone from farming them. Suzume embraced this new task to the heart, despite it was wholly superfluous. [5]
Live silkworms were collected and kept in cages by their bedsides or around the peasant's necks. The silkworm, protected in its cocoon, could protect its charge from evil thoughts, and sleeping under silken sheets was said to prevent baku and gaki from eating dreams. [6]
External Links
Edit
References
Ad blocker interference detected!
Wikia is a free-to-use site that makes money from advertising. We have a modified experience for viewers using ad blockers

Wikia is not accessible if you've made further modifications. Remove the custom ad blocker rule(s) and the page will load as expected.