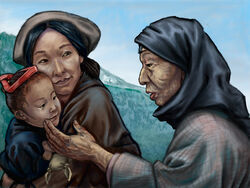 Kimura, Forgiver of Sins, was an air nun who joined the Dragon Clan.
Brotherhood of Shinsei
Edit
Kimura was a member of the Order of Nagiroko-to, devoted to the Fortune of Compassion and Forgiveness, was well known for her efforts. She had traveled the width and breadth of Rokugan offering counsel to the simple folk and samurai alike, absolving them of their misdeeds and offering her wisdom to help them make wiser choices in the future. Her gentle spirit and kind mannerisms earned her the adoration of countless thousands, and she was welcomed everywhere. Even she had been a guest at Shiro Matsu, something that very few members of the Brotherhood could claim. [1]
Colonies
Edit
Troubled by the resurgence of the Fudo cult, Kimura hoped to absolve those betrayed by its teachings in the Colonies. [1] In 1198 she and seven other fellow monks traveled together to the Colonies [2] and offered herself as advisor to the [3] Dragon Clan. [4]
External Links
Edit
References
Ad blocker interference detected!
Wikia is a free-to-use site that makes money from advertising. We have a modified experience for viewers using ad blockers

Wikia is not accessible if you've made further modifications. Remove the custom ad blocker rule(s) and the page will load as expected.