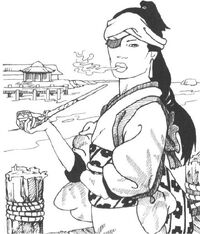 Kiiru, most known as Captain Yellow, was the captain of a riverboat, the Bullfrog, that moved legal supplies between the City of the Rich Frog and the Scorpion Clan Palace at Ryoko Owari Toshi. [1]
Her patron was Shosuro Gobei. Yellow guessed Gohei had smuggling activities, but never with her. She believed her boat was the perfect decoy to counteract her patron's ilegal activities. This is why she left town whenever there was an intense manhunt; staying on the "suspicion list" of Emerald Magistrates she probably helped the targets of these manhunts got away. [2] She did not know that Gobei was a truly honest patron, without any hidden activities. [3]
References
↑ City of Lies: Player's Guide, p. 80
↑ City of Lies: GM's Guide, p. 55
↑ City of Lies: GM's Guide, p. 24
Ad blocker interference detected!
Wikia is a free-to-use site that makes money from advertising. We have a modified experience for viewers using ad blockers

Wikia is not accessible if you've made further modifications. Remove the custom ad blocker rule(s) and the page will load as expected.