Kihei 
 
Born:
Unknown 
Died:
Unknown 
Titles:
Herald of the Shogun
People
Kihei was a Master Swordsman [1] and ronin mercenary. He became the Herald of the Shogun.
War of Fire and Snow
Edit
Kihei fought for the Phoenix Clan against Dragon in the Battle of Ki-Rin's Shrine, only to switch sides after the fall of the Council. [1]
Second Yasuki War
Edit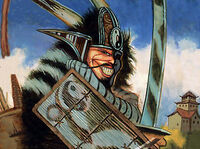 Kihei fought for the Crane Clan against Crab in the Second Yasuki War, only to switch sides and kill a Kakita in a fair duel. Unfortunately there were no witnesses. [1]
Expedition to Shinsei's Last Hope
Edit
Kihei participated in the expedition to Shinsei's Last Hope [2] with Yasuki Hachi and Doji Reju. Although it was a Twenty Goblin Winter period, Kihei remained ronin. Kihei had made it a tradition to participate in every Twenty Goblin Winter, only to refuse to join the Crab. [3] He thought that in Rokugan, most of the heroes were lunatics. [citation needed] He defended the city against a Shadowlands attack of the undead general Tsukuro. [4]
Many thought of him to be deranged, perhaps rightly so, but any samurai would do well to listen to what Kihei had to say. In his lifetime he had amassed an amazing amount of knowledge in all manner of subjects, such as warfare, monsters and individual weapons. There was no clan that had not tasted his blade, nor was there any clan who had not purchased it. Kihei swore fealty to the Shogun Kaneka, recognizing the greatness in him as soon as they met. Though he was the Herald of the Shogun he chose to remain a ronin. [5]
Taking Credit
Edit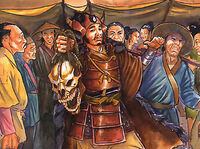 Kihei showed to the rokugani the prize he had earned with his skills, the head of an Oni. [6]
External Links
Edit
References
Ad blocker interference detected!
Wikia is a free-to-use site that makes money from advertising. We have a modified experience for viewers using ad blockers

Wikia is not accessible if you've made further modifications. Remove the custom ad blocker rule(s) and the page will load as expected.