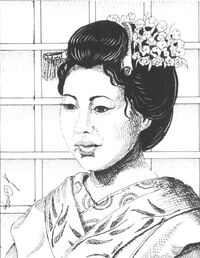 Kicho, also known as Precious, was the okasan of the House of the Morning Star on the Teardrop Island.
Kicho was the most prominent geisha at the House of the Morning Star and was considered the Queen of Teardrop Island and the Licensed District. In matters of gossip, fashion and social favor the influence of Precious was the second to no one. [1]
Demeanor
Edit
Kicho was traditional, compliant, respectful, friendly and imprenetrable. The words beautiful and influential were correctly applied to Precious. [1] She always knew exactly what a client wanted. [2]
Being a geisha since the reign of Hantei XXXVIII, she raised to okasan after the previous one, Hoseki, passed the House to her. [3]
References
Ad blocker interference detected!
Wikia is a free-to-use site that makes money from advertising. We have a modified experience for viewers using ad blockers

Wikia is not accessible if you've made further modifications. Remove the custom ad blocker rule(s) and the page will load as expected.