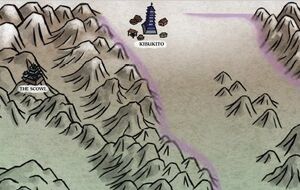 The Far North Village (U2) was a disorganized city on the northern edge of Unicorn territory [1] in the Senseki province. [2]
Founding
Edit
The village was founded with the Brotherhood of Shinsei's assistance and was intended to house the family or descendants of those who had been banished from the Empire to the Burning Sands. The center of the city was a massive temple [3] with a prominent shrine to the obscure Fortune of Redemption, [4] located here for the souls who had been banished to Exile's Road, those who had relatives at Exile's Road Watchtower gathered to pray for their relatives' redemption. [5] The Forty-Sixth Junghar Legion was stationed nearby, to patrol the area north of it, ensuring no gaijin army came close to Rokugan's borders. [6]
Activities
Edit
They traded with the reclusive Badger Clan in the northern mountains of Rokugan within the Senseki province. It had an active monastery dedicated to the study of the Tao of Shinsei. [7] The relatives of those exiled formed their own families, most abandoning any loyalty to the clans that exiled their kin. The city thus had an unusually high number of ronin. [8]
Rojin's Wanderers
Edit
The village was home to the estates of Shinjo Juro and the group known as Rojin's Wanderers. [9]
War of Dark Fire
Edit
The village was attacked by yobanjin forces in 1170 during the War of Dark Fire. [10] It was the first Unicorn territory invaded by the Army of Fire when an advance force began laying waste to its defenses, in preparation for a larger assault to come. [5] When the town was rebuilt after the war, it was discovered that the underground archive of the temple had largely survived. A new town wall and watchtowers were added to the city defenses. [11]
References
Ad blocker interference detected!
Wikia is a free-to-use site that makes money from advertising. We have a modified experience for viewers using ad blockers

Wikia is not accessible if you've made further modifications. Remove the custom ad blocker rule(s) and the page will load as expected.