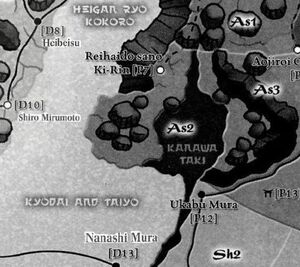 Ki-Rin province (As2) was a province of the Asako family, home to the Iron Rings Cascade, the Sleeping Thunder Mountain, Shiro Gisu, and the famous Ki-Rin's Shrine. [1] It was a mix of mountainous terrain and river valleys, the waters of which flowed to the south to join into the Drowned Merchant River. After the return of the Unicorn Clan, this province became popular destination for some of their samurai. [2]
The province was bordered by the Enju province (As1) to the North, the Kyuukai province (As3) to the East, the Ukabu province (Sh2) and Great Fall to the South, being enveloped by the Dragon Heart Plain to the West. [1] In the late 12th century, some of the plains on the western edge of this province became the lands of the Ox Clan. [2]
References
Ad blocker interference detected!
Wikia is a free-to-use site that makes money from advertising. We have a modified experience for viewers using ad blockers

Wikia is not accessible if you've made further modifications. Remove the custom ad blocker rule(s) and the page will load as expected.