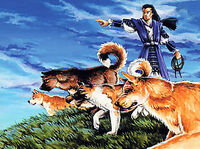 Ki-Rin Wardogs were a breed of canine brought by Unicorn Clan. They were strong, loyal and fierce. They were used in war efforts, due to its speed and ferocity. Unicorn had developed leather barding protecting their hides. Wardogs were exceptional trackers and excellent guards, [1] and they were commonly trained by the Moto family. [2]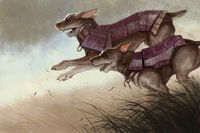 The Ki-Rin Wardogs were handled alone, with one being used to supplement investigative or magistrate work. However, they were also trained to function as a pack, completed with marching orders and a unit commander. They were quick on the attack, going for the throats of their targets unless they were given the command to subdue. [1] They were trained in the War Dog Master Dojo through an intensive series of exercises especially design to strengthen their bodies and teach them courage and resolve. The dogs wore their special barding at all times, and learned to recognize orders. [3]
See also
Edit
External Links
Edit
References
↑ Legend of the Five Rings; Third Edition, p. 278
↑ Masters of War, p. 149
Ad blocker interference detected!
Wikia is a free-to-use site that makes money from advertising. We have a modified experience for viewers using ad blockers

Wikia is not accessible if you've made further modifications. Remove the custom ad blocker rule(s) and the page will load as expected.