Khopesh was a one handed sickle-like blade that was attached to a standard sword hilt. The blade could be edged on either side. The curved shape was used to block the enemy attack while the Senpet warrior wielded a second weapon to take his foe's life. It was named y his enemies as the sickle-sword. [1] The Senpet's heaviest infantry forces were typically equipped with khopesh. [2]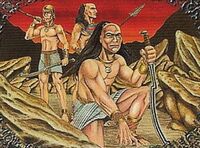 References
Ad blocker interference detected!
Wikia is a free-to-use site that makes money from advertising. We have a modified experience for viewers using ad blockers

Wikia is not accessible if you've made further modifications. Remove the custom ad blocker rule(s) and the page will load as expected.