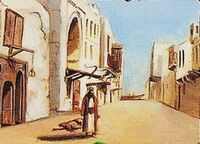 The Khesir Quarter, called the Last Stop by those that lived there, [1] was the oldest part of Medinaat al-Salaam. There villains, thieves, and murderers all gathered. [2] It was located north to the Maze, and it was considered cursed by the villagers. [3]
Yusef al Kedar al Rassulii ordered the city guard to build a wall around the Last Stop, to protect the rest of the city from its filth. [2]
Locations
Edit
External Links
Edit
References
Ad blocker interference detected!
Wikia is a free-to-use site that makes money from advertising. We have a modified experience for viewers using ad blockers

Wikia is not accessible if you've made further modifications. Remove the custom ad blocker rule(s) and the page will load as expected.