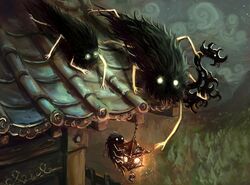 Keukegen (毛羽毛現, "fluffy hair appearance") resembled a small dog covered entirely in long hair. Its name was a pun - when written with different kanji (希有怪訝), keukegen meant "an unusual thing which is rarely seen".
They were largely harmless, and prefered to avoid being seen whenever possible. They would be completely benign, save that they were so hideous. [1]
External Links
Edit
References
Ad blocker interference detected!
Wikia is a free-to-use site that makes money from advertising. We have a modified experience for viewers using ad blockers

Wikia is not accessible if you've made further modifications. Remove the custom ad blocker rule(s) and the page will load as expected.