Ketsuiki was the Rokugani word for a duel to first blood. It was the most common, as it allowed samurai to defend their honor without causing shame to their house. It usually involved the iaijutsu skill and ended when blood was first drawn. [1]
External Links
Edit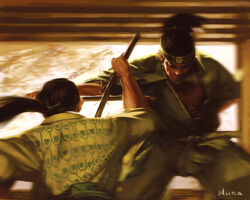 References
↑ Winter Court: Kyuden Seppun, p. 54
Ad blocker interference detected!
Wikia is a free-to-use site that makes money from advertising. We have a modified experience for viewers using ad blockers

Wikia is not accessible if you've made further modifications. Remove the custom ad blocker rule(s) and the page will load as expected.