Ketsuen usually was worn by the Crab Clan Champions instead of the Ancestral Armor of the Crab Clan, and was first worn by Hida himself. It was an awe inspiring suit of armor, and during Hida's battles with Fu Leng, the dark god's blood would seep into the armor, staining the metal and cloth bindings black. This earned it the nickname the "Armor of the Shadow Warrior", because in the haze and smoke of combat it became difficult to see it. [1]
Appearance
Edit
Since the time of Hida it was worn by every Crab Clan Champion as a symbol of their duty and endurance. It was a huge suit, the wearer having to be over six feet tall to comfortably wear it. It covered every inch of the body and the helmet covered the entire face except the eyes. [1]
Abilities
Edit
The armor was the most perfect one Kaiu ever crafted. [2] Its wielder endured even when heavily injured. In addition, spiritual energies slid off it like water, rendering the wearer all but immune to magic and magic-based effects. [1]
During the Clan War, the Armor was greatly damaged when the last Hantei Emperor, who had been possessed by Fu Leng, ran the Crab Clan Champion Hida Kisada through with the Ancestral Sword of the Hantei. [2]
The Loss of the Armor
Edit
When Hida Yakamo fell in the Shadowlands fighting to reclaim Shiro Hiruma, Jama Suru took the armor and hid it in a cave, where it became corrupted. Suru in 1158 decided to use it in a ploy to further corrupt Yoritomo Kumiko. [3] Tsuburu no Oni sent it to the Mantis as a "gift" from the Scorpion (it was being worn by an undead Scorpion in a crate), where it was intercepted by Yoritomo Aramasu, who ordered it cleansed. [4]
Back to the Crab
Edit
It remained in Mantis hands, unusued, [5] until the Mantis Clan Champion Yoritomo Naizen finally gifted the Armor to the Crab during the events of the Race for the Throne. [2] In 1200 the Kuni finished the work of cleansing the taint from the armor. [6]
Wearers of Ketsuen
Edit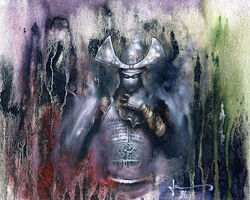 In the past Ketsuen was worn by the Crab Clan Champions, but after it was lost they wore Fukutsu, the Ancestral Armor of the Crab Clan. [7]
External Links
Edit
Sources Conflict
The sources relating to this article are in conflict with each other.
Prayers and Treasures, p. 116 the Ancestral Armor of the Crab a distinct armor of the Armor of the Shadow Warrior. The ancestral one is called Fukutsu
References
See Also
Edit
Ad blocker interference detected!
Wikia is a free-to-use site that makes money from advertising. We have a modified experience for viewers using ad blockers

Wikia is not accessible if you've made further modifications. Remove the custom ad blocker rule(s) and the page will load as expected.