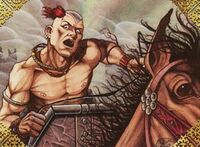 Kepsat was a Senpet lieutenant and Brother of the Black Shield.
Kepsat's father was a Senpet warrior, and he did not spend too much time with his family. [1]
His parents raised Hekau, an orphan. Kepsat's mother, Hekau, and himself formed a close bond. [1]
The Jewel
Edit
In 1130 his Lady, the Pharaoh Hensatti, made an alliance with the Immortal Caliph of Medinaat al-Salaam, the Jewel of the Desert. Kepsat was sent to the city alongside the general Abresax as part of the Senpet military aid to the Caliph. Hekau joined them later. [1]
External Links
Edit
References
Ad blocker interference detected!
Wikia is a free-to-use site that makes money from advertising. We have a modified experience for viewers using ad blockers

Wikia is not accessible if you've made further modifications. Remove the custom ad blocker rule(s) and the page will load as expected.