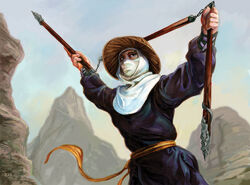 Kenta was a monk, kensai and conqueror of the Spider Clan's Order of the Spider.
Colonies
Edit
Kenta was ordered to protect the Blood of the Preserver while the powerful item was being transferred. They were attacked by Ruhmalists in their way, but the Spider managed to kill the cultists to a man. Kenta was wounded but kept the attackers at bay. Shortly after a Lion patrol led by Akodo Furu. The leader of the Spider expedition, Daigotsu Arakan, did not allow them to check the wagon with the Blood and continued their journey. [1]
External Links
Edit
Kenta (The Shadow's Embrace)
References
Ad blocker interference detected!
Wikia is a free-to-use site that makes money from advertising. We have a modified experience for viewers using ad blockers

Wikia is not accessible if you've made further modifications. Remove the custom ad blocker rule(s) and the page will load as expected.