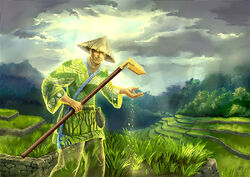 Kenro-ji-jin was the Fortune of Soil. [1] Every farmer and gardener tended to a small shrine to Kenro-ji-jin near their fields. The Fortune of Soil tended to be impartial, and it took great efforts to draw the attention of Kenro-ji-jin for good or for ill. Kenro-ji-jin often interacted with the other Fortunes, most notably Inari, Kuroshin, Daikoku, and Ebisu. The Fox Clan held the foremost of Kenro-ji-jin's shrines within the Empire. [2]
External Links
Edit
References
Ad blocker interference detected!
Wikia is a free-to-use site that makes money from advertising. We have a modified experience for viewers using ad blockers

Wikia is not accessible if you've made further modifications. Remove the custom ad blocker rule(s) and the page will load as expected.