Keitaku was the Celestial Sword of the Phoenix Clan. It was one of the eight blades commissioned by Lord Sun from the Fortune of Steel Xing Guo after the Ancestral Swords were placed in Tengoku and given to the Clan Champions. [1]
Appearance and Abilities
Edit
Keitaku was simple in appearance, though those who could sense the dance of the elements, such as shugenja, the blade always appeared wreathed in brilliant silver flame in the shape of a soaring phoenix. [2] The blade increased the Iaijutsu and Kenjutsu skills of its wielder, and it would be engulfed in flames, [3] and it also could store spells. [4]
Phoenix Clan
Edit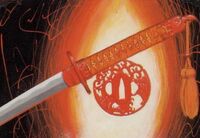 The sword was originally given to Shiba Tsukune, but she already passed by to her son Shiba Aikune before her ascension to Tengoku as Fortune of Rebirth. [5] After Aikune gained the power of Isawa's Last Wish, he gave Keitaku to his friend, Shiba Mirabu. Mirabu held it until the return of Ofushikai, the Ancestral Sword of the Phoenix Clan. It had been dormant since his death at Isawa Sezaru's hands. After it Keitaku resided in Shiro Shiba, in a small shrine to Mirabu's memory. [3]
Known Wielders
Edit
External Links
Edit
References
Ad blocker interference detected!
Wikia is a free-to-use site that makes money from advertising. We have a modified experience for viewers using ad blockers

Wikia is not accessible if you've made further modifications. Remove the custom ad blocker rule(s) and the page will load as expected.