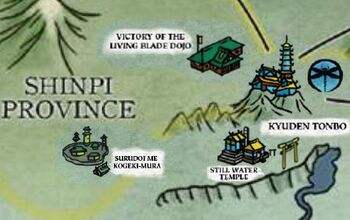 Keen Eyes' Strike Village was the place where the Kitsuki Investigators honed their skills, a place where genuine crime looking scenes were created. Located only a day's ride south of Shiro Kitsuki, agriculture was its major industry. One path, just off the main road passing through the village, consisted of unoccupied houses where convoluted plots were designed for students to solve. An apothecary was designated to help produce the chemicals and powders necessary to make the training scenarios held in the village. [1]
References
↑ Secrets of the Dragon, p. 20
Ad blocker interference detected!
Wikia is a free-to-use site that makes money from advertising. We have a modified experience for viewers using ad blockers

Wikia is not accessible if you've made further modifications. Remove the custom ad blocker rule(s) and the page will load as expected.