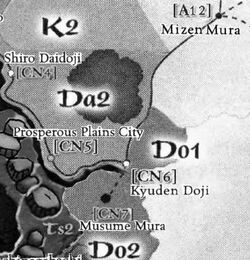 Kazenmuketsu province (Do1) was the northernmost Doji province.
Kazenmuketsu was bordered in the north by the Imperial lands that led towards Otosan Uchi, by the Hayaku province (Da2) in the west, by the Oyomesan province (Do2) in the south, being enveloped by Umi Yakamo to the east. [1]
Holdings
Edit
Its most important holdings were Kyuden Doji, the Crane capital, [1] the Eye of the Needle, [2] Shiro Katogama, Aireru Mori, [3] Sokustel Forest, [4] Seven Fold Palace, [5] the Lost Daughter Inlet and Bay of Green Coral. [6]
References
↑ Fortunes & Winds, p. 80
↑ Secrets of the Crane, p. 50
↑ Time of the Void, p. 100
↑ Legend of the Five Rings; Fourth Edition, p. 339 and Map
↑ Way of the Crane, p. 109 & Legend of the Five Rings; Third Edition, p. 305