Kayomasa was a Free Ogre, his will not bounded to Fu Leng's. He studied under Kayosai.
Allegiance to the Dark Lord
Edit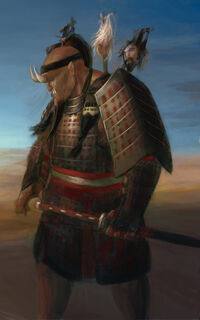 Despite the fact that its tribe, the Mikata, had left Daigotsu's service years before, after the Dark Lord's defeat before Iuchiban; in 1167 Kayomasa ventured into the City of the Lost and offered its services to Daigotsu. He feared that the beasts of Jigoku, which had beeen raised against Daigotsu during the Time of Demons, would have the ogres be simple brutes again. [1]
City of the Lost
Edit
Kayomasa came to the Temple of the Ninth Kami every day. He waited for the day when Fu Leng would call him to his side. In the mean time he used to visit the Tuftuf Sake House and made him friend of Daigotsu Toshimo. [1]
Kanpeki's Guardian
Edit
Kayomasa remained in the city for some time, until he had the chance to prove his worth in 1168 when he, along with Daigotsu Eiya defeated the rampaging Munemitsu no Oni attack on the Temple of the Ninth Kami. Daigotsu rewarded Kayomasa for his service by making him the yojimbo of his newborn son, Daigotsu Kanpeki. [1]
Into the Empire
Edit
After the creation of the Spider Clan in 1169 by Daigotsu, Kayomasa entered the Empire, continuing his duties as Kanpeki's protector [2] in the Black Silk Castle. [3]
Age of Conquest
Edit
When the Spider Clan was elevated to Great Clan status, Kayomasa moved to the Colonies, where Kanpeki was raised. [4]
The exact fate of Kayomasa was unknown but he was dead before the end of the 12th century. [5] Kanpeki wore decorative horns as an homage to both his father and the ogre that had stood by his side for so long. [6] Kayomasa had a son, Masajiro.
External Links
Edit
References
↑ Masters of Court, p. 131
↑ Unexpected Allies 2, p. 82
Ad blocker interference detected!
Wikia is a free-to-use site that makes money from advertising. We have a modified experience for viewers using ad blockers

Wikia is not accessible if you've made further modifications. Remove the custom ad blocker rule(s) and the page will load as expected.