Kawa no Kin, the River of Gold, [1] was the river which started in Yasuki lands, ran dawn in Scorpion lands, crossing Ryoko Owari and surrounded the Teardrop Island, Mantis dominated, [2] and running out into Earthquake Fish Bay. [3] The river was wide with a slow pace, which made it a navigable trade route. [4]
Ryoko Owari
Edit
The Bay of Drowned Honor was the widening of the river when the river crossed and cut in two Ryoko Owari. [5] The river was used as the city's primary sewer, and was described as the River of Dung. [6]
Once all Scorpion trade and com­merce run along this route, [4] until it became the greatest Yasuki trade route. [3] While the River of Gold was wide and slow-moving for most of its length, a set of rapids to the north of Clear Water Village prevented it from being fully navigable. [7]
There had been many cargo ships sent along the river, but lightning-fast pirate raids have harassed some of them. Most consider the river more trouble than it's worth. [8] In war torn years the piracy can become so bad that the river can go unused for years at a time. Efforts to eradicate any pirates usually meets with a fair amount of success, but the attractiveness of the targets along the river soon results in new pirates. [9]
Destroyer War
Edit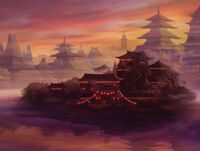 In 1173 during the Destroyer War the River of Gold was under attack of the Destroyers for several weeks, but was successfully defended in the Battle of the River of Gold. [10]
References
Sources Conflict
The sources relating to this article are in conflict with each other.
In Secrets of the Scorpion page 33 it is named Kawai no Kin, being a typo.
Ad blocker interference detected!
Wikia is a free-to-use site that makes money from advertising. We have a modified experience for viewers using ad blockers

Wikia is not accessible if you've made further modifications. Remove the custom ad blocker rule(s) and the page will load as expected.