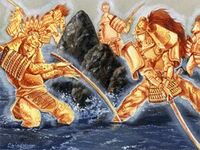 The Three Sides River (X) was named by three boulders, known as Radeki, Gensei and Tenero, which could be only seen in summer when the river was at its lowest level. [1]
Location
Edit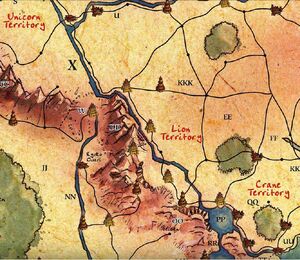 The river was in the Daidoji provinces, near the Spine of the World Mountains, marking the border between Crane and Lion lands with the Three Sides Watchtower sitting in the Crane Bank. The river led into the Lake of Sorrows, a lake it was believed to be cursed. Some people believed that they could curse an enemy throwing their name to the river, so that it led to the cursed lake. The tale was well-known because Miya Mai wrote a play about it titled Three Stone River. Because of this, the people in the surrounding villages also refer to this river as the Three Stone River. [2] [3]
Contested
Edit
The river provided the heart of trade and commerce for three Great Clans in the heart of the Empire, the Scorpion, the Lion and the Crane Clans, making it the most contested body of water in Rokugan. [4] [5]
Lion-Phoenix battle
Edit
During the 5th century a conflict broke between Phoenix and Lion. The Battle of Three Stone River was a major Lion defeat, which proved the superiority of shugenja over bushi in the appropiate terrain. No shrine was erected on the site. The three boulders were called as the three late Lion officers, Radeki, Gensei and Tenero. [6]
Kami of the River
Edit
In 1114 the kami of the river, Shanshien, abandoned its home. It took human form as the shinpu of the temple Yaruki Jukko. In 1118 it fused with the body of the monk Tankenka. [7] After six years, the kami's absence had caused the river to become stagnant and mired. A tribe of Zokujin began to suffer of starvation, because their natural food source, the common rocks of the mines, had become corrupted by the river. [8] Eventually in 1120 the kami was released from the monk's body and returned to the river, where it began to repair the damage done over the six years of its absence. [9]
External Links
Edit
References