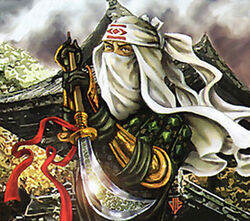 Katashi was a tainted monk of the Spider Clan.
Katashi trained under Michio. [1] Katashi was arrogant, and he was punished for his failures. He had risen from them even stronger. [2]
Encountering the Spider
Edit
Katashi encountered the Dragon Clan Monk Togashi Miyoko at the Temple of Resolution in Crab lands in 1169. Katashi was quite rude and uncouth towards her and the temple, and the two eventually fought. Katashi was driven from the temple by Miyoko and the other Crab monks present, but not before swearing the matter was not over between the two. [1]
External Links
Edit
References