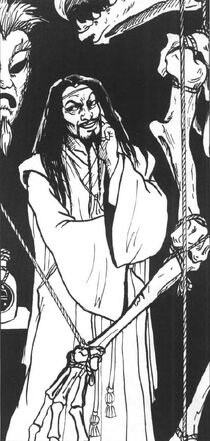 Kuni Kasumi was a shugenja who fled from his clan becoming the ronin Kasumi. To hide from punishment Kasumi disguised in the persona of Soshi Kokei.
Witch Hunter
Edit
Kasumi was appointed to take the battlefield to exterminate large targets (particularly denizens of the Shadowlands), and to immobilize or cripple human enemies. He eventually lost control and dispatched two Hida units, including his own sensei. [1]
Kasumi was hunted down for his crime, to be executed by the Crab Clan Champion Hida Kisada himself. He took the persona of Soshi Kokei and joined a caravan of performers, using his magic to enhance his art. Kasumi met Kakita Naru, a mute musician who became his best friend. They formed a famous duet, "The Scorpion and the Crane", being Naru also magically aided by Kasumi when they were performing. [2]
Otosan Uchi
Edit
They moved to Otosan Uchi and lived in the Performer's Quarter. Naru fell in love of Biko, a beautiful heimin servant to Miya Hiyoko. Biko cared for her aged parents and walked to the Forbidden City to work. Kasumi wished to aid his friend to bring the caouple together and observer her routine. His investigation led him to the knowledge that Hiyoko would bring the servant as permanent resident within the Forbidden City. He guessed this path would lead to great disharmony for Biko and Naru, so Kasumi pondered if he had to take the life of Lady Hiyoko. [3]
See also
Edit
References
Ad blocker interference detected!
Wikia is a free-to-use site that makes money from advertising. We have a modified experience for viewers using ad blockers

Wikia is not accessible if you've made further modifications. Remove the custom ad blocker rule(s) and the page will load as expected.