Kasuga Hyobe was a Tortoise Clan sailor that served in Yoritomo's Alliance during the Clan War [1] and War Against the Shadow. [citation needed]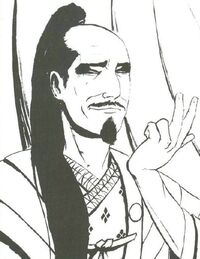 Hyobe was appointed as the commander of the Tortoise ships which traveled to the north of Rokugan. His ship sunk and he survived for months alone in an island. When Hyobe eventually returned to the mainland he had an atrocious scar upon his left eye, and an unyielding fear of the sea. [2]
Land Commander
Edit
Hyobe used his natural ability with command and unusual approach to field combat on land, his time onboard a ship forever finished. [2] He was granted his own vassal family, the Hyobe, becoming the general of the small Tortoise army. Ten years later he fought alongside Yoritomo in the Clan War. [3]
Hyobe became the yojimbo of Seppun Oroku and died in 1159 in the Fall of Otosan Uchi while defending his master. [4]
See also
Edit
External Links
Edit
References