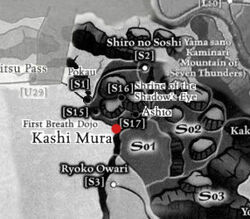 A large village that some called a city, Kashi Mura was as close as the Scorpion came to having a port. Many boats could be hired here to travel the length of the nearby River of Gold. [1]
Location
Edit
After the Seikitsu Pass was opened, the Soshi built the Merchant's Ease Road. Kashi Mura sprang up at the road's south end, [2] occupying the western bank of the River of Gold about halfway between Shiro no Soshi and Ryoko Owari Toshi. From there the river was navigable affording those who traveled down the road easy access to Ryoko Owari or any other port further down the river. [3]
Destroyer War
Edit
In 1173 Kashi Mura was destroyed by the invading forces of Kali-Ma during the Destroyer War. Shiba Danjuro was among the defenders, but couldn't save the village against the Kali-Ma's Elite Guard and instead had to watch it die. [4]
References
Ad blocker interference detected!
Wikia is a free-to-use site that makes money from advertising. We have a modified experience for viewers using ad blockers

Wikia is not accessible if you've made further modifications. Remove the custom ad blocker rule(s) and the page will load as expected.