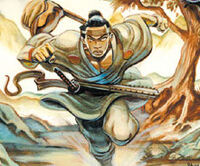 A Karo was a high ranking advisor to a daimyo. They were sometimes the rikugunshokan of an army of that daimyo as well, [1] his minister, [2] or his chief magistrate. [3] One of his duties were to handle the daily affairs. [4]
Embassies at Imperial City
Edit
Each of the embassies of the Great Clans within the Imperial City had a karo appointed by the Emerald Champion as his representative. [5]
External Links
Edit
References
Ad blocker interference detected!
Wikia is a free-to-use site that makes money from advertising. We have a modified experience for viewers using ad blockers

Wikia is not accessible if you've made further modifications. Remove the custom ad blocker rule(s) and the page will load as expected.