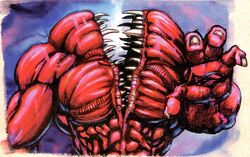 Kamu no Oni, the Killing Maw, was an oni of the Shadowlands. [1]
Appearance and Abilities
Edit
Kamu no Oni was a nearly mindless demon with no obvious sensory organs, yet it was an extremely capable hunter and killer. The oni's shoulders and chest split into a massive maw, atop a powerfully-built torso. [1] Kamu's powerful, nine-foot tall body bulged with raw muscles. It usually attacked by grabbing its opponent, lifting him off the ground and wrenching limbs off. It then proceeded to stuff the torn, bloody remains into its maw. Kamu no Oni would gladly tear into allies if no enemy soldiers were available. [2]
Fall of Otosan Uchi
Edit
In 1159 during the Fall of Otosan Uchi Asako Kaushen was destroying the East Hub Village with Kamu no Oni and a Chi no Oni. Shiba Aikune with the Wish appeared and killed them all. [3]
Scorpion Wall is Breached
Edit
In 1200 a breach in the Scorpion Wall let many demons to leave the Second Festering Pit. Kamu no Oni and Tsuburu no Oni engaged a battle which was being fighting between Lion and Scorpion forces. [4]
See also
Edit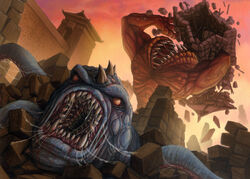 External Links
Edit
References
↑ Clan War: The Clans, p. 67
Sources Conflict
The sources relating to this article are in conflict with each other.
Battle for Otosan Uchi, Part 2 mentions Titsu no Oni, but it only appeared in the ccg, and is actually the same oni as Kamu no Oni
Ad blocker interference detected!
Wikia is a free-to-use site that makes money from advertising. We have a modified experience for viewers using ad blockers

Wikia is not accessible if you've made further modifications. Remove the custom ad blocker rule(s) and the page will load as expected.