Kamilah 
Born:
Unknown 
Died:
Unknown 
Siblings:
Zahra
People
Kamilah was an Ebonite.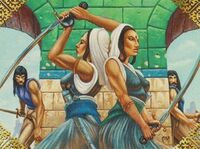 Kamilah was the twin sister of Zahra, [1] and they were called the Janan Twins and considered the living testament to the Ebonite oath. [2]
Fighting
Edit
The twins sisters fought inside Ghassan's gambling house against a Khadi, being quickly suffused by the Senpet city guard. [2]
Zahra, Avatar of the Goddess
Edit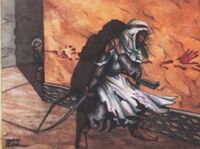 Zahra was discovered as one of the Avatar of the Goddess. She would aid to fulfill a prophecy which would release a Goddess. [3] Somehow Kamilah guessed it would destroy the Ebon Stone, releasing its evil inside. The only duty of the Order of the Ebon Hand was to avoid it. [4] Kamilah attacked her sister, and after a ferocious battle both became wounded but Zahra managed to flee. [1] Zahra struggled through the sewers to the City of the Seventh Star to fulfill her part in the prophecy. [5] Kamilah followed the drops of her sister's blood, and she left a trail by the point of her sword, to give the direction of her sister to other Ebonites. [1]
References
Ad blocker interference detected!
Wikia is a free-to-use site that makes money from advertising. We have a modified experience for viewers using ad blockers

Wikia is not accessible if you've made further modifications. Remove the custom ad blocker rule(s) and the page will load as expected.