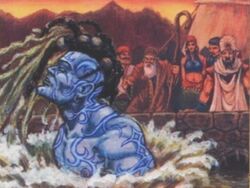 Kalassim was an Ashalan. He saw Nagah approaching Medinaat al-Salaam. He swam in the Nahr'umar river while one of these creatures was chasing him, and burst out of the stream to warn the Council of Twelve, rulers of his race, that the monsters had returned to the Burning Sands. [1]
References
Ad blocker interference detected!
Wikia is a free-to-use site that makes money from advertising. We have a modified experience for viewers using ad blockers

Wikia is not accessible if you've made further modifications. Remove the custom ad blocker rule(s) and the page will load as expected.