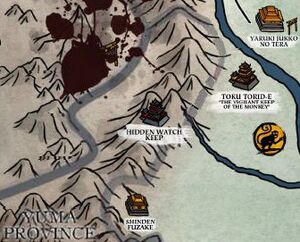 The Hidden Watch Keep (S4) in the Yuma province [1] sat high in the mountains overlooking Beiden Pass. The Scorpion had always manned it with shugenja who would send signals back to the Bayushi, reporting on all traffic through the pass. [2] This keep was connected to Kyuden Bayushi by the merchant road known as the Road Once Hidden. [3]
Destruction of Beiden Pass
Edit
Despite the destruction of the pass the keep remained in use, overlooking the many small passes that were travelled in place of Beiden. [4] It had a sister keep, much less famous, Heaven's Crossroads. [5]
References
Ad blocker interference detected!
Wikia is a free-to-use site that makes money from advertising. We have a modified experience for viewers using ad blockers

Wikia is not accessible if you've made further modifications. Remove the custom ad blocker rule(s) and the page will load as expected.