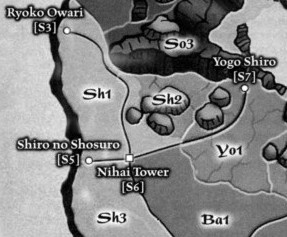 The Kakushikoto province (Sh2) was the Shosuro province extending from the southernmost border of the Kunizakai province (Ba1), to the northernmost border of the Yuma province (So3), and from the westernmost borders of the Fukitsu province (Yo1), to the easternmost border of the Ryoko province (Sh1). Notable location within the province was the Nihai Tower (S6). [1] Comprised entirely of hill country, with abundant forests, it contained several mines of iron, copper, and other minerals. [2]
References
Ad blocker interference detected!
Wikia is a free-to-use site that makes money from advertising. We have a modified experience for viewers using ad blockers

Wikia is not accessible if you've made further modifications. Remove the custom ad blocker rule(s) and the page will load as expected.