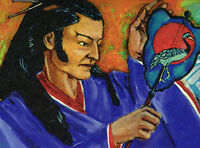 Kakita Yinobu was a Master Orator of the Crane Clan.
Imperial Court
Edit
Yinobu lived at Otosan Uchi prior to the Scorpion Coup, [1] The prominent member of the Imperial Court had dangerous contacts, as the oyabun Tsuyuge in the Kanjo district. [2]
Yinobu was a sharp and witty opponent in the political arena relying upon his natural speaking ability to defend the Crane at court. He had incorporated the wild and brutal techniques of the Jesters, slipping thinly veiled insults and confounding riddles into conversation, as a natural extension of his own methods. [3]
See also
Edit
External Links
Edit
References