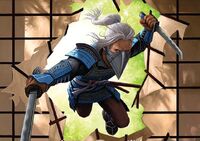 Kakita Ujirou was a bushi, duelist, and magistrate of the Crane Clan.
Storming Shiro no Yojin
Edit
In 1200 the Lion claimed the northern portion of the Kintani Valley fell within the purview of Seizuka Shiro, and the Crane were forced to vacate Shiro Kyotei. Shortly after Shiro no Yojin was stormed by Crane forces under the command of Kakita Ujirou. The Ancestral Standard of the Lion was captured from an Akodo Honor Guard who was passing through Shiro no Yojin. The Lion relinquished their claim, and both strongholds were returned to their former owners. [1]
External Links
Edit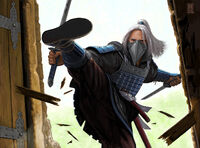 References
Ad blocker interference detected!
Wikia is a free-to-use site that makes money from advertising. We have a modified experience for viewers using ad blockers

Wikia is not accessible if you've made further modifications. Remove the custom ad blocker rule(s) and the page will load as expected.