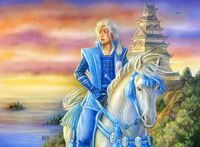 Kakita Totani was the commander of the Third Imperial Legion.
Blood Hunt
Edit
In 1166 Totani went to Scorpion lands to hunt the bloodspeakers that had been revealed when Iuchiban ordered then to make self-destructive acts of chaos. Bayushi Paneki had assigned Shosuro Aroru under her command while the Legions were in the Scorpion lands. She knew the Scorpion would inform Paneki about her movements, decision, and mannerism. Totani led a dangerous mission, with Aroru and only ten more men, sneaking into the Beiden Pass to reach a cultist camp. Aroru was surprised the Crane exposed her to such risks. [1]
Destroyer War
Edit
In 1173 during the Destroyer War Totani and her legion fought in the Battle of Kyuden Ashinagabachi. [2]
External Links
Edit
References
Ad blocker interference detected!
Wikia is a free-to-use site that makes money from advertising. We have a modified experience for viewers using ad blockers

Wikia is not accessible if you've made further modifications. Remove the custom ad blocker rule(s) and the page will load as expected.