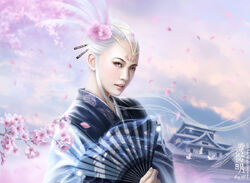 Kakita Taminoko was a courtier of the Crane Clan.
In 1171 the Court was nearly emptied when many delegations departed after the plague struck the Imperial City. Taminoko and Doji Odaka slandered those who fell to the sickness. Shinjo Haruko heard their conversation becoming angry for blaming on innocents. She turned her attention to the Phoenix courtier Asako Kanta, whose clan was tending a high Crane courtier affected by the plague, while the Horiuchi family had been put to the torch without intervention of the Phoenix healers. [1]
External Links
Edit
References
Ad blocker interference detected!
Wikia is a free-to-use site that makes money from advertising. We have a modified experience for viewers using ad blockers

Wikia is not accessible if you've made further modifications. Remove the custom ad blocker rule(s) and the page will load as expected.