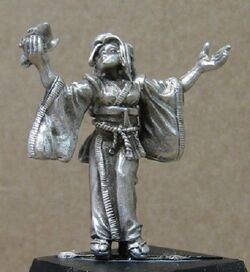 Kakita Shura was a shugenja-ko of the Crane Clan.
Training
Edit
Shura was trained in the Kakita Artisan school, but she eventually fell prey to her obsession with magic, and was accepted into the Asahina Shugenja school. Shura learned to fuse her two great loves, and once she displayed her abilities with origami magic to a Daidoji leader, Shura was asked to train with the Daidoji military. She was taught how to lead a military unit in the battlefield. [1]
Battle for Doji Palace
Edit
Shura was under the command of Matsu Agetoki during the Fall of Kyuden Doji. The Lion had been ordered by the Emperor to stand aside of the fight, seeing how the Crane defenders were decimated by the Shadowlands forces led by the False Hoturi. [2]
See also
Edit
References
Ad blocker interference detected!
Wikia is a free-to-use site that makes money from advertising. We have a modified experience for viewers using ad blockers

Wikia is not accessible if you've made further modifications. Remove the custom ad blocker rule(s) and the page will load as expected.