Kakita Shinichi was a bushi and duelist yojimbo of the Crane Clan.
Shinichi used to spar with [1] his younger brother Kakita Daitsu. [2] His trademark katana was Uguisu. [3]
Twenty Festivals
Edit
In 1200 during the Twenty Festivals, Shinichi and Daitsu, along with Kakita Takara, were selected to provide examples of the grand Kakita style across the Empire. The Crane Clan expected their show of skills would convince the new Emperor Iweko II to foster a child into the Kakita school. [4] Eventually, the Kakita Daimyo Kakita Ikura himself announced that the as yet unborn child of Iweko II should be trained in the Kakita Dueling Academy. Shortly after Shinichi defeated Mirumoto Higaru in a duel orchestrated by Kitsuki Akito and Doji Natsuyo, to test if Kakita style was superior to Niten. The loser suffered the harsh words of Shinichi and the mockery of Kakita Iwari, a jester. [5]
Future Sensei
Edit
Doji Makoto's wife and sister had died during childbirth. The Crane Clan Champion ordered his son and nephew would have join Daitsu and Shinichi when they were strong enough. [6]
Iweko II
Edit
The Emperor-to-be selected the brothers to spar any bushi who wished to serve as officers in the Imperial Legions. [7]
External Links
Edit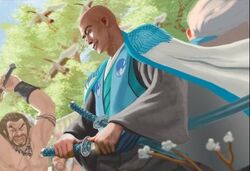 References
Ad blocker interference detected!
Wikia is a free-to-use site that makes money from advertising. We have a modified experience for viewers using ad blockers

Wikia is not accessible if you've made further modifications. Remove the custom ad blocker rule(s) and the page will load as expected.