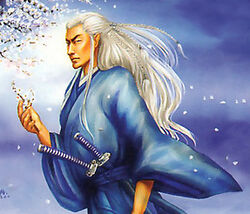 Kakita Rekkusu was a bushi and Emerald Magistrate of the Crane Clan. He was a supporter of Toturi Naseru.
Emerald Magistrate
Edit
Rekkusu was appointed as Emerald Magistrate. [1]
Fighting the Lion
Edit
Rekkusu met in battle Matsu Ferishi, and he was impressed by her beauty. [2]
Blood Hunt
Edit
In 1166 Rekkusu killed his distant cousin Kakita Akija in a teahouse at Shimomura. Akija was talking with him when became mad and seemed intent on destroying the building and everyone within it, including Rekkusu. Realizing his cousin was a Maho-tsukai Rekkusu managed to kill him before the bloodspeaker could make further damage. [1]
External Links
Edit
References
Ad blocker interference detected!
Wikia is a free-to-use site that makes money from advertising. We have a modified experience for viewers using ad blockers

Wikia is not accessible if you've made further modifications. Remove the custom ad blocker rule(s) and the page will load as expected.