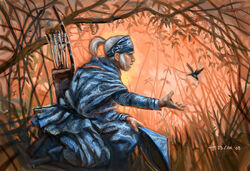 Kakita Okirou was a bushi, artisan and poet of the Crane Clan.
Okirou was a yojimbo in the Imperial Court. Doji Nagori saw his abilities and used them during the War of Dark Fire. [1]
War of Dark Fire
Edit
In 1171 the Dragon village of Toi Koku was evacuated before the yobanjin Army of Fire arrived. Okirou had poured lantern oil over the whole village and when the raiders reached the center he drew a fired arrow. The yobanjin died and the village was burned down. He sent Nagori a poem with the report. [1]
External Links
Edit
References