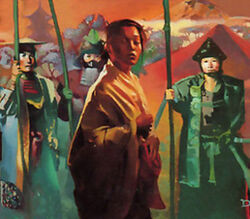 Kakita Nanami was a courtier, negotiator of the Crane Clan, and Hatamoto to Lord Kurohito. [1]
Childhood
Edit
Nanami was born into a low stationed family, were upset that they had a daughter. She was sent to a small local dojo, where she was to join the Kakita Artisans and learned the way of Acting. [2]
After her gempukku, Nanami was sent as storyteller to a small peasant village near Kyuden Doji. While there, she met the gifted courtier Doji Tanitsu who was impressed with her talents. She eventually returned to Kyuden Kakita and remained there for several years. [2]
Imperial Court
Edit
Nanami was invited to Imperial Court at Otosan Uchi by Tanitsu. Rumors of a budding romance between the two were spread by Tanitsu, bringing her prestige. She truly loved Tanitsu, but soon realized that he was still smitten with Toturi Tsudao. Nanami secured a place in the court for herself independent of Tanitsu's favor and began to slowly sever her ties with Tanitsu. [2]
Second Yasuki War
Edit
Nanami offered a Crane peace treaty to the Crab Clan during the Second Yasuki War, but was refused. [3]
Preparations of the Winter Court
Edit
Doji Kurohito introduced Nanami to Doji Tanitsu in one of the meetings preparing for the Winter Court of the Four Winds, but both were old friends. Tanitsu suggested she was the best option to be put forward as the Crane wife for Akodo Kaneka. [4]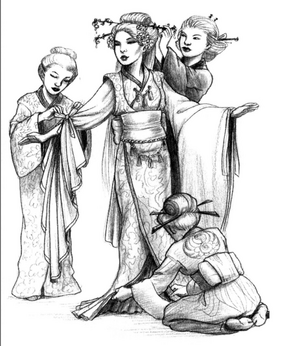 Matchmaker
Edit
Nanami became a matchmaker for the court, arranging several high-profile marriages. [2] Nanami arranged to earn Tsudao's trust and secretly began making arrangements for her marriage to Tanitsu. Unfortunately, before her plans could come to fruition, Tsudao was killed during the defeat of Daigotsu. Since then she remained a faithful ally to Tanitsu, serving him and the Crane Clan to the best of her abilities. [5]
See also
Edit
External Links
Edit
References