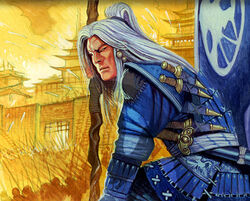 Kakita Mitsumichi was a bushi and duelist of the Crane Clan.
Moto Bloodline Curse
Edit
In 1199 the Phoenix Clan spread the discovery that the Moto bloodline was cursed, drawing ill fortune. Mirumoto Hikuryo pondered the astrological report with Mitsumichi, whose cousin's wedding was canceled due to her husband-to-be's lineage. The Crae suggested the Dragon Clan had invented it to save face for the broken engagement of their Champion Mirumoto Shikei with Moto Naleesh, and Hikuryo unsheated his blade to clean the insult. [1]
External Links
Edit
References