Kakita Ibara was a samurai-ko and duelist of the Crane Clan. Cousin of Doji Dainagon, she was considered beautiful, talented, and rapidly becoming notorious. [1] Ibara was a graduated of the Kakita Dueling Academy. [2]
The Currency of War
Edit
In 1199 a disagreement over a merchant caravan detained by the Crane in the Spine of the World Mountains rapidly escalated into a conflict between the Crane and Mantis Clans. In the Tsuruchi lands Ibara arrived to Waystation Village disguised as a ronin, and cut down the resident samurai, Tsuruchi Miriko. Crane forces evacuated the village and burned it to the ground. [3]
Oracle of Fire
Edit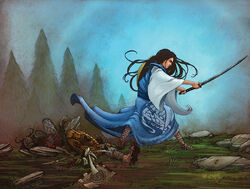 In 1200 Ibara was selected as the new Oracle of Fire and attended the Conclave of Light with her fellow Oracles, to discuss about the impending threat of Jigoku upon the mortal realm. The meeting was disturbed by Kokujin Dairu, who killed the monk Oshiryo. The Oracles vanished, to leave the Shadowlands monk without the prize of asking a question to an Oracle. [4]
External Links
Edit
References
Ad blocker interference detected!
Wikia is a free-to-use site that makes money from advertising. We have a modified experience for viewers using ad blockers

Wikia is not accessible if you've made further modifications. Remove the custom ad blocker rule(s) and the page will load as expected.