Kakita Funaki was a samurai-ko, courtier, and duelist of the Crane Clan. She was the sister of the Keeper of Fire, Kakita Tsuken.
Enlightenment
Edit
Funaki was entrusted with safeguarding the Book of Fire for her brother. She revered him and the other Keepers, and considered the book a sacred artifact that she must defend with her life. Although she believed that she was not yet worthy of such knowledge, Tsuken had encouraged her to read the passages found within, and she was beginning to understand the way he saw the world now. [1]
External Links
Edit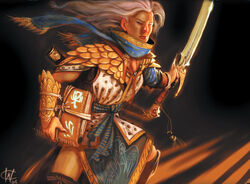 Sources Conflict
The sources relating to this article are in conflict with each other.
In the fiction Dawn of Lotus: The Dragon Clan [2] Funaki is treated as a male. The first CCG card also could be seen as a male.
References