Kakita Foruku was the Chisei district's governor at Otosan Uchi prior to the Scorpion Coup and member of the kolat.
Furuku consorted with the geisha Miharuko, becoming her "pet". Sadly she not only made him a hollow shell, but as Miharuko was a kolat member they used their relationship to control him. [1]
Chisei Governor
Edit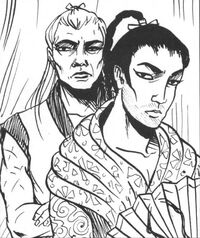 As governor of the Chisei district Furuku held one of the most important post of the Empire, including his membership of the Sentaku Tribunal. Their Dragon counterparts had little interest in the affairs of the district, so the responsability fell to the Crane. The Kolat funneled ideology and contacts through this district into the Forbidden City, which gave them the leverage to focus on larger goals, as thinning the Imperial bloodline, arranging marriages that diluted the original Hantei blood. [2]
See also
Edit
External Links
Edit
References
Ad blocker interference detected!
Wikia is a free-to-use site that makes money from advertising. We have a modified experience for viewers using ad blockers

Wikia is not accessible if you've made further modifications. Remove the custom ad blocker rule(s) and the page will load as expected.