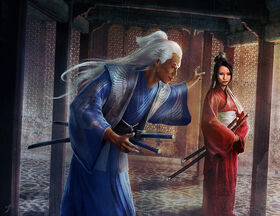 Kakita Burei was an artisan and duelist of the Crane Clan who was considered a braggart.
Winter Court - 1199
Edit
In 1199 Burei attended Imperial winter court at Toshi Ranbo. He eventually was threw out of Court by Imperial Chancellor Toku Hikaru, who was annoyed by the poem made by Burei to express his joy regarding his lady, did so in "non-traditional" verse. Burei returned the following day to apologize, satisfying the Chancellor. [1]
External Links
Edit
References
Ad blocker interference detected!
Wikia is a free-to-use site that makes money from advertising. We have a modified experience for viewers using ad blockers

Wikia is not accessible if you've made further modifications. Remove the custom ad blocker rule(s) and the page will load as expected.