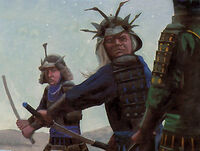 Kakita Aihara was a bushi peacemaker of the Crane Clan.
Kolat Exposed
Edit
In 1132 he was present when the Emperor Toturi I by surprise beheaded Isawa Osugi in front of the Imperial Court, accusing her of being a member of the fabled Kolat. [1]
Crane Civil War
Edit
This year many members of the Crane began to lobby against the Crane Civil War, being Aihara one of them. [2]
External Links
Edit
References