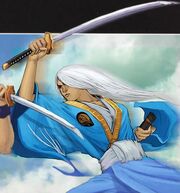 Kakita Aichiko was a bushi and a duelist of the Crane Clan.
Aichiko has won eighteen duels, including victories over Bayushi Togaru and Akodo Shako.[1]
While acting as champion for Doji Kishio, Aichiko killed Hida Hachimoto in a duel at the Yasuki Estates in the summer of the year 1170.[2] This forced the seppuku of Yasuki Tijaki.[3]
External Links
Edit
References
Edit