Kakita's Sword was the blade carried by Kakita during the Dawn of the Empire.
Appearance
Edit
The saya of Kakita's First Blade was richly lacquered in sky blue and ornamented with fine silver, while the simple blade itself was clean and always remains rust-free. [1]
Emerald Championship
Edit
After Kakita won the Emerald Championship he was gifted a new blade by Hantei and this blade was put aside. The blade was then put in the Tomb of the Seven Thunders and was later one of the Artifacts of the Tomb of the Seven Thunders to be retrieved during the Battle of the Tomb in 1168 by Daidoji Kikaze. The Jade Champion Asahina Sekawa had communed with the kami within it to learn its identity. [2]
Doji Nagori
Edit
Crane Clan Champion Doji Domotai wished to give it to the finest duelist the Crane had to offer, but was advised by Doji Nagori and Doji Seishiro that this might open the wound of the blood feud between the Matsu and Kakita families. Seishiro suggested that the blade should instead be carried by a courtier, and nominated Nagori, who could do nothing but accept the offer from his cousin and Champion. [2]
Nagori in 1170 used the sword to kill the man who had murdered his wife Doji Jorihime during the Night of the Assassins. [3]
External Links
Edit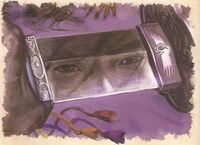 References
↑ Prayers and Treasures, p. 124