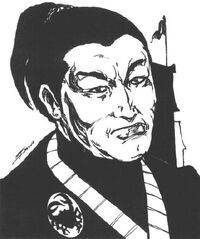 Kaiu Shinya was a bushi weaponsmith of the Crab Clan.
Shinya studied in the Hida Bushi school, and graduated in 1117. [1]
Bargaining with a Kumo
Edit
He journeyed in the Shadowlands to kill some goblins, a show of strength toward his clan, but he was trapped in an immaterial and ghostly giant web. A kumo appeared and offered him great wisdom if Shinya shared his name with the ghost spider. Shinya eventually agreed, and the spirit became his mirrored image. [2]
Losing identity
Edit
The Kumo Gaki maintained imprisoned, and with every day passed Shinya lost a bit of his own identity and memories, consumed by the spider. When the kumo could pass as Shinya himself returned to the Crab lands, it left behind the bushi. [2]
Bargaining with Goblins
Edit
Shinya managed to escape, only to be captured again, now by a Goblin Shaman, the Exalted Ugu, and his followers who would eat him. Shinya made a deal to save his life, he led them to the ruins of Hiruma Castle and helped them find a secret passage into it. The goblins surprised and killed the nezumi who lived there. Shinya escaped in the confusion and returned to safety of the Crab lands. [2]
Chased by the Crab
Edit
The gaki knew Shinya had escaped and told the Crab forces his story, but switching who was the kumo and who the bushi. So the real Shinya was pursued by magistrates for years. [2]
Shinya tracked down his twin at Ryoko Owari Toshi and both fought. A group of magistrates arrived, but they could not know who was the true one. [2] It was unclear if Shinya survived or the gaki.
See also
Edit
References
Ad blocker interference detected!
Wikia is a free-to-use site that makes money from advertising. We have a modified experience for viewers using ad blockers

Wikia is not accessible if you've made further modifications. Remove the custom ad blocker rule(s) and the page will load as expected.